Introducing MACI cartilage repair using your own cells
MACI uses your own cells to create durable repair tissue for knee cartilage
damage and can:
Reduce pain1,2
Improve function1,2
Provide lasting results2,3
How MACI Works
A sample of your cartilage cells (chondrocytes) is sent to a laboratory and embedded on a special collagen membrane which your doctor then implants into your knee. The cartilage cells regenerate, forming a repair tissue that is able to fill the cartilage defect.
From your cells to MACI:
A step-by-step guide
Step 1 of 6:Knee cartilage damage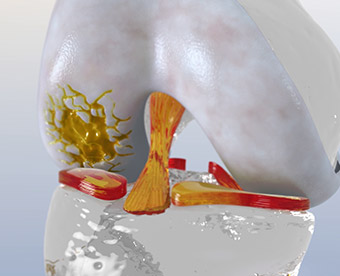 When knee cartilage is damaged—from an injury or daily wear and tear—it cannot function properly, and doesn't heal on its own. This means your cartilage injury could get worse over time, leaving you with more pain and limiting your physical activity.
Step 2 of 6:Harvesting your cells
MACI uses your own cells to repair your knee cartilage damage.

During your arthroscopy, a procedure to look inside your knee, your surgeon will take 2 to 3 pieces of healthy knee cartilage—each about the size of a Tic Tac®—and send them to our state-of-the-art, FDA-licensed facility.
Step 3 of 6:your own cells
At the facility, your cartilage cells will be treated to help them expand and multiply.

Your expanded cells are then placed onto a special membrane and delivered to your surgeon for your procedure.
Step 4 of 6:The MACI membrane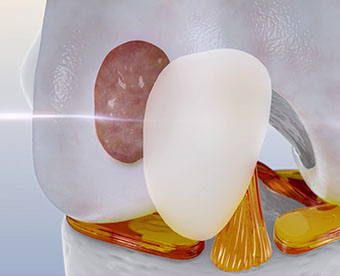 The membrane will be customized to match the size and shape of your cartilage defect before it is affixed to the damaged area of your knee cartilage.
Step 5 of 6:Regenerating your cartilage
Once implanted into the damaged area, your cells detach from the membrane, combine with proteins in your knee cartilage, and form a durable repair tissue.

This durable repair tissue continues to mature over time, filling your defect to regenerate the damaged cartilage.
Step 6 of 6:AFTER Surgery
You will begin a physician-prescribed rehabilitation program specifically designed for you.

As you progress through the program, you should begin to experience restored knee function, helping you get back to your active lifestyle.


After MACI is implanted, you will begin a physician-prescribed rehabilitation program specifically designed for you.

MACI should not be used in patients who cannot follow a doctor-prescribed rehabilitation program after their surgery.

Learn more about rehabilitation
1. In the SUMMIT clinical trial, MACI was shown to offer greater pain relief and improvement in function when compared to microfracture.
2. Saris D, Price A, Widuchowski W, et al. Matrix-applied characterized autologous cultured chondrocytes versus microfracture: Two-year follow-up of a prospective randomized trial. Am J Sports Med. 2014;42(6):1384-94.
3. Improvements in pain and function were maintained with MACI at year 5.