Your doctor has several surgical techniques available for treating damaged knee cartilage:
Autologous Chondrocyte Implantation (ACI)
ACI is a biological procedure that involves expanding a person's own cartilage cells in a lab and then implanting them in the damaged area to restore the tissue. ACI has been used for more than 20 years to help provide long-lasting pain relief and to help people regain knee function. MACI is a third generation ACI.
MACI offers a simplified way to deliver cells1.
MACI (autologous cultured chondrocytes on porcine collagen membrane) is made up of your own (autologous) cells expanded and placed onto film that can be absorbed back into your own tissue. It is implanted into the area where the damaged cartilage was removed. The resulting tissue has properties similar to hyaline cartilage, the durable tissue found in articular cartilage. MACI is proven to provide long-lasting pain relief and help you regain knee function.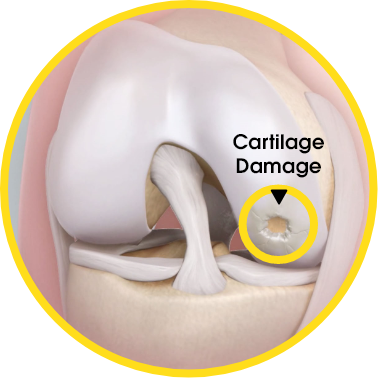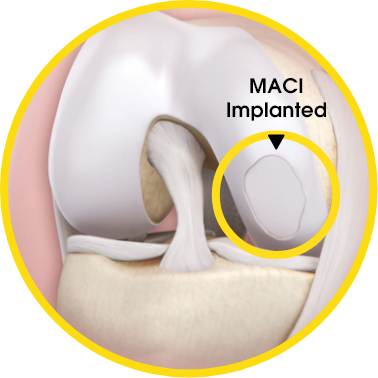 Chondroplasty

(Also called "debridement and lavage")
The doctor removes the loose, damaged cartilage and cleans the area with sterile water.
This may offer temporary relief but does not repair the cartilage lesion.
---
Microfracture

(Also called "marrow stimulation")
Several holes are drilled into the bone just beneath the cartilage, creating a blood clot that forms repair tissue.
The tissue formed is a type of scar tissue called fibrocartilage, which may influence the durability of the repair.2
---
Osteochondral Allograft

(OCA or Cadaver Donor)
Sterilized, treated cartilage and bone tissue from a cadaver are used to fill the defect in your cartilage.
Cartilage implants are limited by the ability to procure donor tissue.
---
Osteochondral Autograft Transplantation
(OATS®)
Cartilage is taken from a healthy area of your bone that is non-weight bearing and is "plugged" into the damaged area.
This implant may be limited by the ability to procure donor tissue.
---
Is MACI right for you? See how the MACI procedure may be your next best step.

"By resolving my knee pain, MACI brought me back to what I love: running, biking, and just being active with my family and friends."
—Abby, MACI patient*
*Paid testimonial by a MACI patient. Individual results may vary.

See Abby's and others' stories about how MACI has helped them get back to their active way of life.

Sign up to get information on the MACI procedure, patient support, and more with our free welcome packet.

References: 1. Gooding C, Bartlett W, Bentley G, Skinner J, Carrington R, Flanagan A. A prospective, randomized study comparing two techniques of autologous chondrocyte implantation for osteochondral defects in the knee: Periosteum covered versus type I/III collagen covered. Knee. 2006;13(3):203-210. doi:10.1016/j.knee.2006.02.011 2. Marcacci M, Filardo G, Kon E. Treatment of cartilage lesions: What works and why? Injury. 2013;44:S11-S15. doi:10.1016/s0020-1383(13)70004-4