Introducing MACI cartilage repair using your own cells
MACI is a procedure that repairs cartilage using the patient's own cells. MACI provides long-lasting pain relief and improvement in function.1
How does MACI work?
A sample of your cartilage cells (chondrocytes) is sent to a laboratory and embedded on a special collagen membrane which your doctor then implants into your knee. The cartilage cells regenerate, forming a repair tissue that is able to fill the cartilage defect.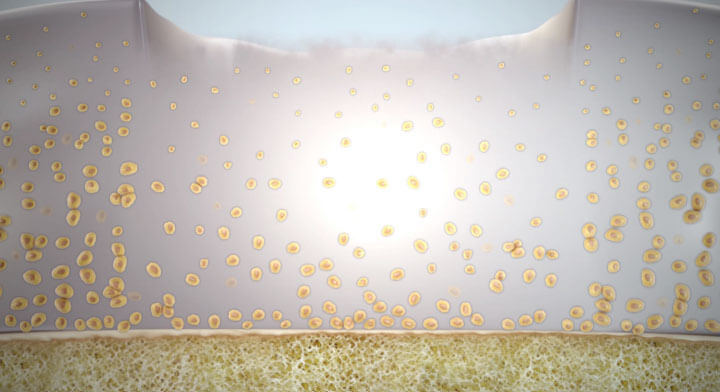 creates a repair tissue that allows patients to resume an active lifestyle¹
MACI has been proven to provide three important things:
A functional repair tissue
MACI produces a type of repair tissue that alleviates symptoms and restores joint function which has been shown to form as early as 6 months after the MACI procedure.1
Reduced pain and improved function
In the SUMMIT clinical trial, MACI has been shown to offer greater pain relief and improvement in function when compared to microfracture.1
Patient satisfaction
In the SUMMIT clinical trial, MACI patients reported higher quality of life scores, a greater ability to perform recreational and sports activities, and improved overall knee function.1
About the summit extension trial1
The SUMMIT Extension Trial was an open-label, multicenter extension of the Summit Trial. The study continued to show a favorable safety and clinical outcome at five years consistent with the two year results.
In the SUMMIT Trial, patients treated with MACI experienced statistically significantly greater outcomes versus microfracture, including scores related to activities of daily living, quality of life, and overall knee condition.¹
The safety and long-term clinical benefit of MACI have only been studied in the knee joint. MACI has not been approved for use in joints other than the knee. The safety and effectiveness of MACI have not been proven for patients 55 years old and older.
1. Saris D, Price A, Widuchowski W, et al. Matrix-applied characterized autologous cultured chondrocytes versus microfracture: Two-year follow-up of a prospective randomized trial. Am J Sports Med. 2014;42(6):1384-94.