Knee cartilage injuries will often get worse with time if left untreated
In patients undergoing cell-based knee cartilage restoration, lesions can progress and new lesions can form as time between cartilage biopsy and implantation increases.1 If conservative treatment has not worked to relieve pain associated with knee cartilage damage, MACI may be an appropriate treatment option.
Cartilage defect expansion1
0.6 cm² mean change in defect size between biopsy & implantation
0.11 cm² increase in defect expansion per month delay to implantation
New high-grade cartilage defects1
16.2% of patients developed a new high-grade cartilage defect
155 days mean time between cartilage biopsy & implantation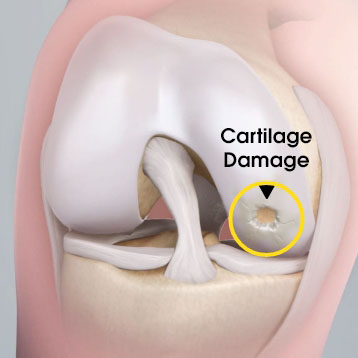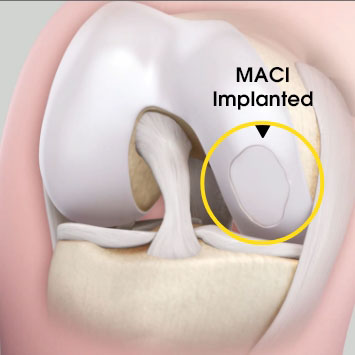 MACI is autologous chondrocyte implantation, simplified2
MACI is less invasive than previous ACIs—may be done through a mini-arthrotomy.
MACI is simplified—does not require supplemental suture fixation.
MACI is reproducible—consistently delivers a controlled, uniform dose of characterized cells to the defect area, regardless of defect size.
MACI vs. microfracture: improvements in pain and function3
A significantly greater proportion of patients treated with MACI experienced clinically meaningful improvements in both pain and function at 2 years when compared to microfracture.3
In a follow-up extension study, improvements in pain and function at Year 2 were maintained with MACI at Year 5.4
Mean patient-reported KOOS scores at year 2 and year 54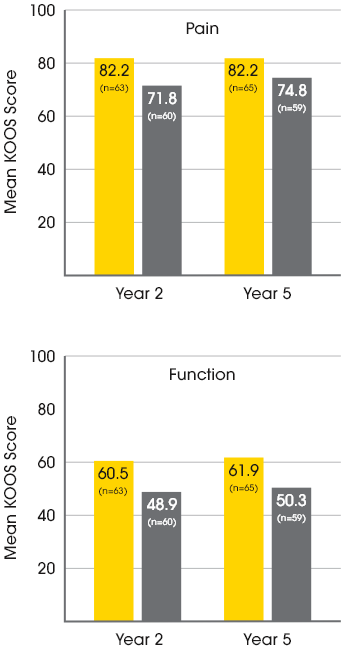 Baseline KOOS Scores for MACI patients:
37.1 Pain / 15.4 Function
Baseline KOOS Scores for Microfracture patients:
35.2 Pain / 11.9 Function

Patient-reported KOOS responder rates at week 104
The responder rate was higher with MACI when compared with microfracture (P=0.016). Response is defined as ≥10-point improvement in both pain and function.3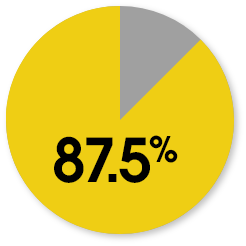 MACI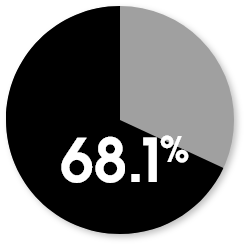 Microfracture
MACI is a third-generation ACI, offering a simplified way to deliver cells2
MACI has proven results3,4 with over 21 years of clinical experience.5
MACI is FDA approved based on results from the rigorous phase 3 SUMMIT clinical study.3
MACI is the only biologic knee cartilage therapy to gain FDA approval through the Biologics License Application.6
MACI results have been reported in a growing body of literature, including nearly 50 publications and 5 randomized controlled trials.7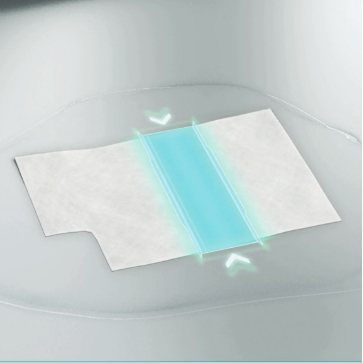 Manufactured in accordance with quality GMP standards
MACI is aseptically manufactured from a patient's autologous cells in an FDA licensed facility using only sterile materials.
Manufacturing clean rooms maintain the highest cleanliness standards through automated environmental controls and monitoring.
Each phase of manufacturing is monitored and tested for microbial contamination.
Our scientists and engineers are protected by pre-sterilized gowning materials for the safe production of MACI.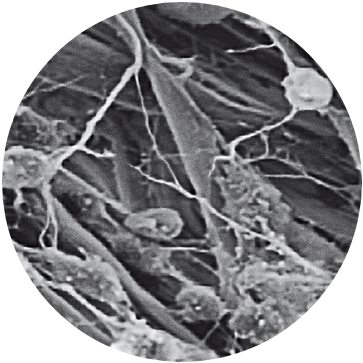 Uniform Loading Unit (ULU™)
A patient's characterized cells are distributed onto the MACI membrane in a density of 500,000 to 1,000,000 per cm2 using the proprietary Uniform Loading Unit (ULU). Uniform loading allows for the application of a consistent dose of cells to the defect in a less invasive surgical delivery.
Image shown: High Magnification SEM shows chondrocyte attachment to collagen fibers
Every MACI implant undergoes rigorous release testing to confirm:
Viability
Verifies a sufficient amount of viable chondrocytes for implantation is available
Identity
Uses genetic markers to identify chondrocyte cells
Potency
Validating the ability to form a durable repair tissue
Sterility
Used throughout the process to detect most organisms within 48 hours*
*sterility results are not available at the time of shipping

Questions about the MACI procedure? Have materials sent to your practice.


Watch live MACI case videos with notable orthopedic surgeons.
References: 1. Pettit RJ, Everhart JS, DiBartola AC, Blackwell RE, Flanigan DC. Time Matters: Knee Cartilage Defect Expansion and High-Grade Lesion Formation while Awaiting Autologous Chondrocyte Implantation. Cartilage. 2021 Dec;13(2_suppl):1802S-1808S. 2. Gooding CR, et al. A Prospective, Randomised Study Comparing Two Techniques of Autologous Chondrocyte Implantation for Osteochondral Defects in the Knee: Periosteum Covered Versus Type I/iii Collagen Covered. Knee. 2006: 13(3): 203-210. 3. Saris D, Price A, Widuchowski W, et al. for the SUMMIT study group. Matrix-applied characterized autologous cultured chondrocytes versus microfracture: two-year follow-up of a prospective randomized trial. Am J Sports Med. 2014;42:1384-1394. 4. Brittberg M, Recker D, Ilgenfritz J, Saris D. SUMMIT Extension Study Group. Matrix-applied characterized autologous cultured chondrocytes versus microfracture: Five-year follow-up of a prospective randomized trial. Am J Sports Med. 2018;46(6):1343-1351. 5. Cherubino P, Grassi FA, Bulgheroni P, Ronga M. Autologous chondrocyte implantation using a bilayer collagen membrane: a preliminary report. J Orthop Surg (Hong Kong). 2003 Jun;11(1):10-5. 6. Gudeman AS, Hinckel BB, Oladeji L, Ray TE, Gersoff W, Farr J, Sherman SL. Evaluation of Commercially Available Knee Cartilage Restoration Techniques Stratified by FDA Approval Pathway. The Am J Sports Med. 2021 Sep 15 (online). 7. Hadley CJ, Shi WJ, Murphy H, Tjoumakaris FP, Salvo JP, Freedman KB. The Clinical Evidence Behind Biologic Therapies Promoted at Annual Orthopaedic Meetings: .A Systematic Review. Arthroscopy. 2019 Jan;35(1):251-259.